STAMI has awarded 2017 Seed Grants to Georgia Tech researchers that are members of the Community for Research on Active Surfaces and Interfaces (CRĀSI) and the Soft Matter Incubator (SMI). Proposals were selected on a competitive basis. The 2017 CRĀSI seed grant program sought innovative proposals addressing fundamental scientific questions pertaining to surfaces and interfaces, and two collaborative proposals were selected. The 2017 SMI seed grant program sought proposals addressing questions pertaining to fundamental soft matter, and three collaborative proposals were selected. Learn more.
Monday, December 12, 2016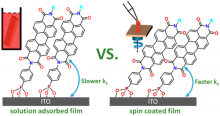 Modification of the TCO surface with a redox-active surface modifier is a possible approach toward enhancing OPV efficiency by providing an efficient charge-transfer pathway between either hole- or electron-harvesting contacts and the organic active layer. Two different deposition techniques were used with perylene diimide (PDI) surface modifiers in the study: adsorption from solution (SA) and spin coating (SC), to create three types of monolayer films on ITO: SA PDI–phenyl–PA, SA PDI–diphenyl–PA, and SC PDI–phenyl–PA. These thin films, designed to act as "charge-transfer mediators", were used to study relationships between molecular structure, electron-transfer (ET) kinetics, and electronic structure.